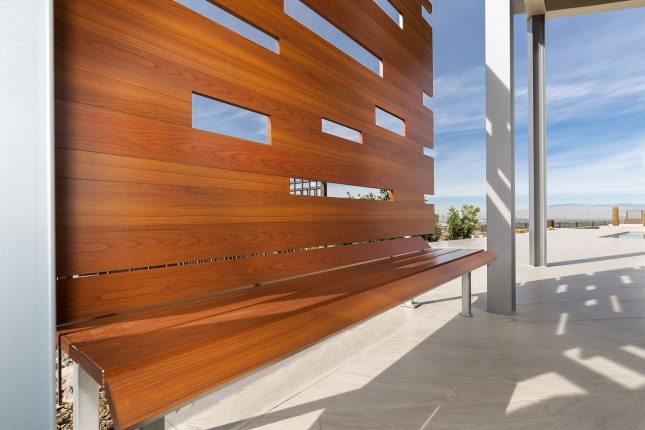 We are often asked whether it is better to shoot in the day or at night. While a lot of things factor into that decision (the position of the sun for daytime shots, the amount and role of ambient lighting when shooting at night, the overall look you want, etc) the truth of the matter is that in most cases we can shoot at either time of day and come away with great images.
Longboard Cladding produces exterior siding which a creative metalworker in Vegas turned into a backyard bench–and they wanted showcase this imaginative use of their product in photos. On a tight budget, Longboard dispatched us at our base rate to the home at Ascaya in Henderson in mid day because their thinking was that there is simple more light during the day. While the above photo shows that the few speed lights (you know, the flashes you pop on top of your camera) which we carry on every shoot can go a long way in making a beautiful photograph, when we changed angles, we didn't have the lighting ammunition to overpower the sun which was blasting directly behind the patio. We did our best with the lights we had and manually bracketed multiple exposures (think HDR), and got an okay result: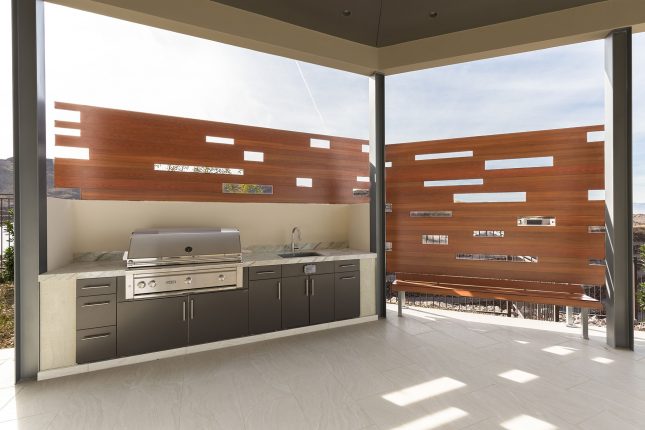 But with a stunning location overlooking the Strip and some obvious recessed lighting built into the patio, we thought the home was a prime candidate for some quick and easy nighttime photos. Especially in wintertime when the sun sets before 4:30PM, getting photos at dusk can be every bit as convenient as shooting during the day. (When the sun sets at 9:00PM, homeowners may be less receptive to a photographer.) Here, our gracious host agreed to let us come back for a few quick shots at twilight and we were able to add some dramatic diversity to Longboard's portfolio of this project. We hope you like what you see!