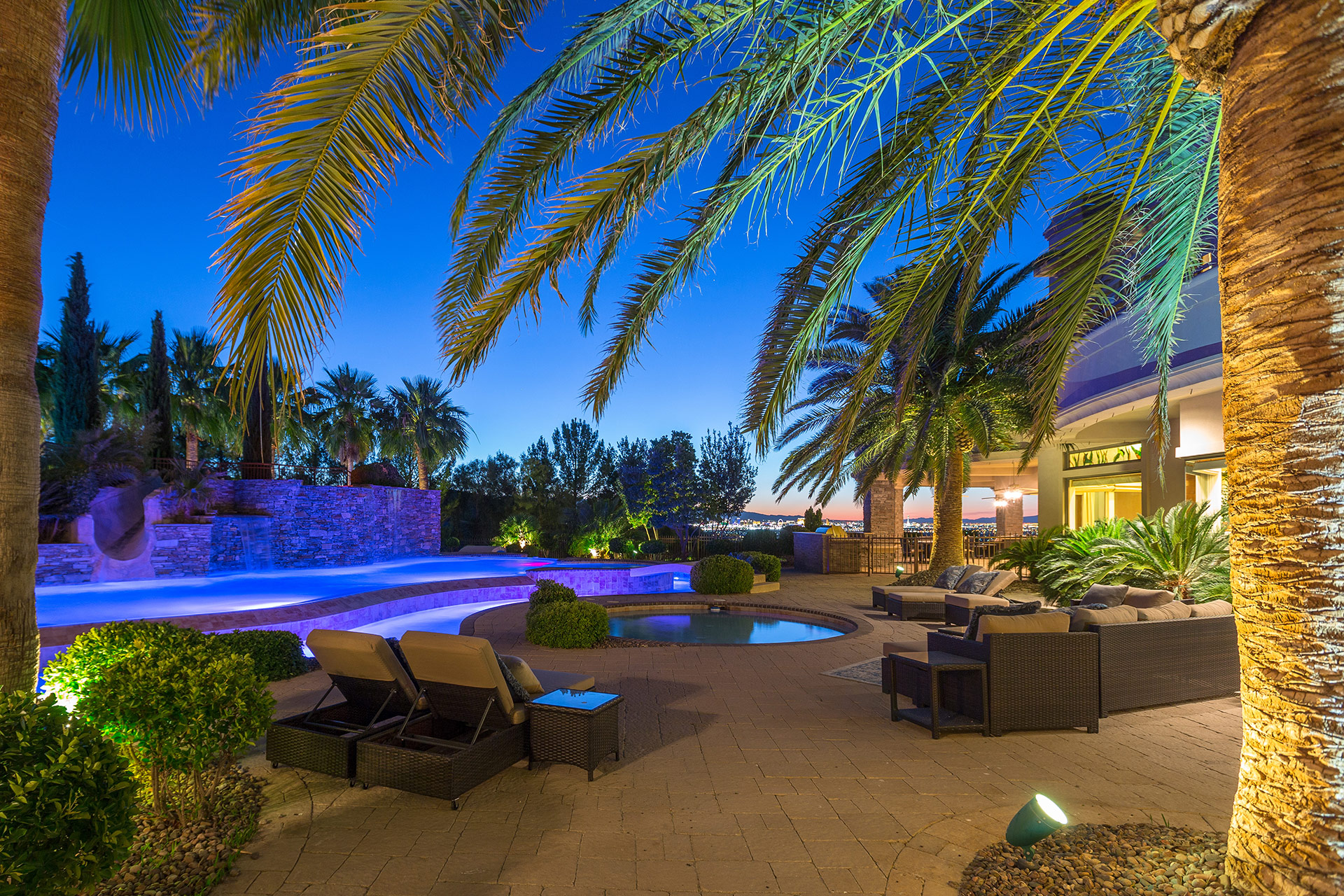 Luxury Real Estate Photography in 2017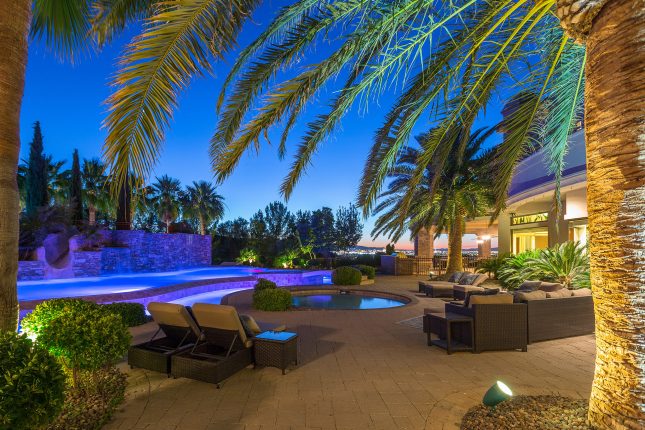 As one might imagine, it is always a great deal of fun to photograph a luxury home for sale in Las Vegas. But this time, it wasn't a party pad that was going on the market, but a large family home with amenities suited for kids and adults alike. I thought it would be fun to walk through some of the creative ways we capture the images of this home.
In the above photograph, we tried to capture all the most dramatic and valuable aspects of the home in a single photo. We wanted to showcase the desert-and-palms landscaping, the wading pool, swimming pool and waterslide, the landscape lighting, and ultimately, the city view. The composition walks the viewer beneath the palm fronds, past the pools and lands on the colorful view in the distance. Just what we want to encapsulate all these features in one image.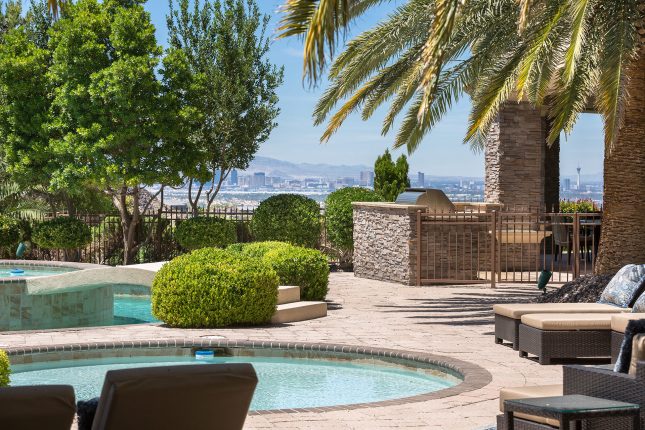 The photo above performs a similar job, but in a tighter composition on a longer lens to compress the scene and bring the city view and outdoor grill closer to the viewer and suggest a daytime outing in the backyard.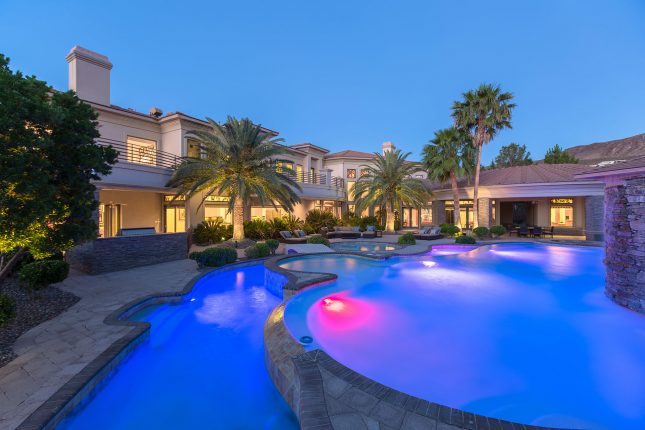 While we are still on the subject of the backyard, one can't miss the opportunity to place the expansive exterior of the home just behind its massive pool and lazy river.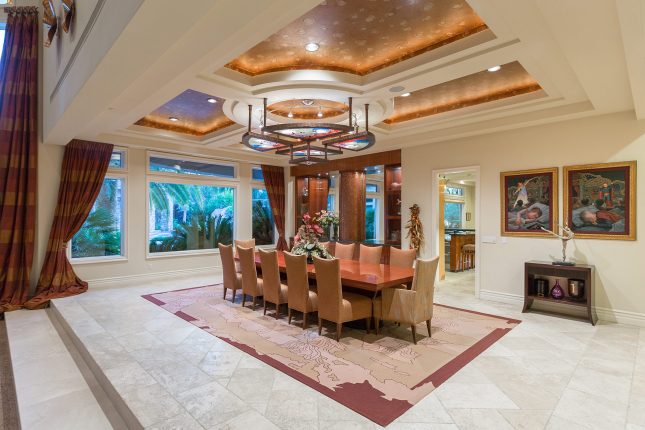 Walking inside, we get to show off a spacious dining room which makes this table for twelve look tiny. With a wide lens, we are able to show off the sprawling tile floors and coffered ceilings. Shooting at dusk allows the light fixture to show off a little as well.
Deep inside the basement, a very rare thing to find in caliche-soiled Las Vegas, is a dark a quiet study. With a tripod and a long exposure, we can capture a, bright and detailed (but still moody) image of this underground getaway.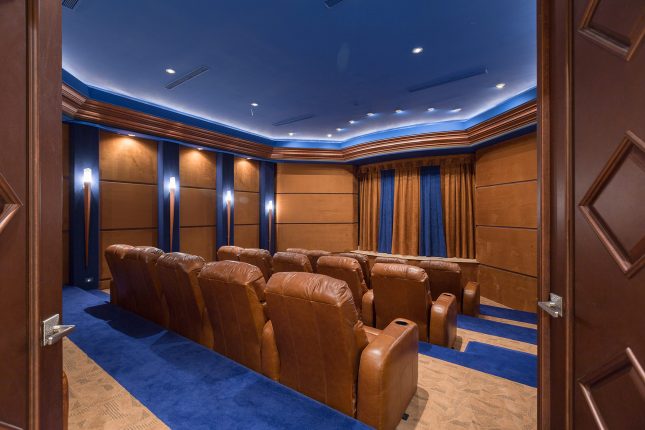 Another dark space which we tackled with multiple, long exposures, blended and cleaned up in post-production, was a three-tiered home theater which features an actual stage set for film an live productions alike.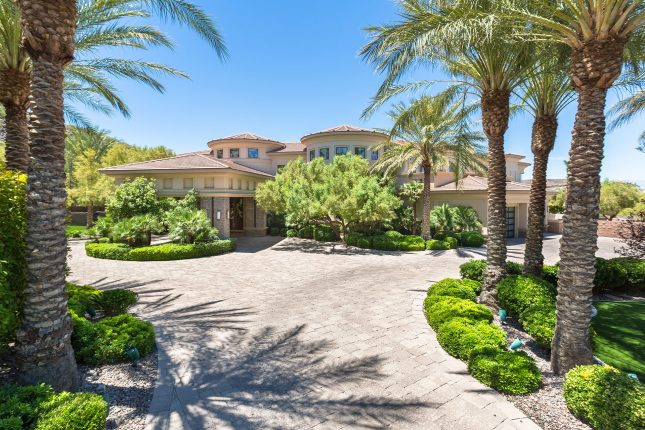 The front of the home is obscured with abundant landscaping, so to create an image which captured the windows of the turrets and some of the beautiful roof work, we elevated the camera about 15 feet to create a balanced and vertically centered perspective of the home. We hope you like the images! If you'd like to see more, check out the listing here.
https://www.davidmarquardtphotography.com/dmheat/wp-content/uploads/2017/06/LuxuryHomePhotography2017-4.jpg
1280
1920
David Marquardt
https://www.davidmarquardtphotography.com/dmheat/wp-content/uploads/2022/08/DavidMarquardtLogo2022-370w.png
David Marquardt
2017-07-01 00:01:51
2022-12-28 17:17:54
Luxury Real Estate Photography in 2017