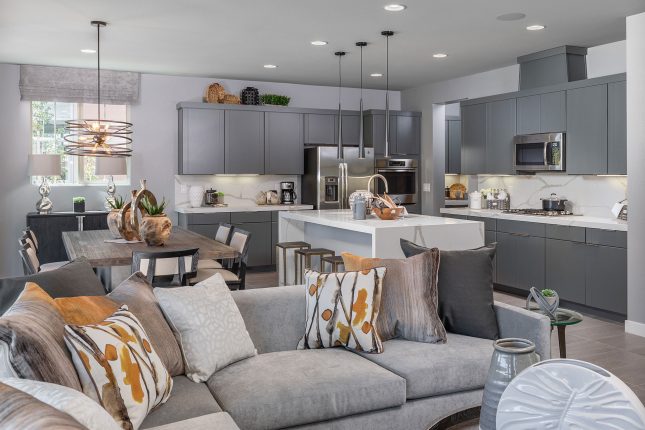 We always love to shoot beautiful spaces. Woodside Homes recently gave us a call to photograph the models homes of two newly opened communities in Henderson. The photography for San Remo Townhomes and Alta Fiore at Lake Las Vegas allowed us to create images of some beautifully designed interiors and create real estate images which are more work-intensive, and in the end, a little more crafted than our more affordable real estate photography offerings.
While it seems counterintuitive, shooting during the day is typically much more work than shooting in the evening. There's no brighter light to compete with than the sun and when sunlight comes pouring through windows with no window coverings (as is typical with model homes) you need to match that brightness with flash lighting inside to keep the windows balanced. What's more, builders want to showcase their interior lighting–light which doesn't match daylight. That means we need to find ways with lighting and post-processing to keep colors consistent and avoid blue and orange color casts which are the result of differing sources of light. To illustrate this point, we threw in an out-of-camera shot of one of these spaces which was shot in RAW and balanced as well as we could without supplemental lighting and compositing in post-production. It's not bad, but it's not the same.
Without getting too technical, the bottom line is that shooting during the day can pose some real obstacles to getting quality images. Here is a series of living room and kitchen combos, which tend to be the signature shot of these space. We hope you like what you see!